Courses at the MPC
Palin Parent Child Interaction Therapy (PCI) one-day update (June 2024) @thepalincentre via Zoom
June 20, 2024 9:00 am - 5:00 pm
Please note this training is via Zoom
This is a special opportunity for therapists who previously attended a Palin PCI course since 2008 to refresh and update their knowledge and skills about this approach to working with children up to seven years who stammer.
New aspects of the course include:
The Palin Model (2019) for therapists and parents
A new screening device: to treat or not to treat?
What is our goal in therapy? What is the parents' goal in therapy?
Incorporating Solution Focused Brief Therapy into Palin PCI
Working with parents on desensitization and a focus on the whole child
Working directly with young children who stammer on desensitization, managing their thoughts and feelings
Adapting Palin PCI for children with additional needs who stammer
The update includes access to two pre-course webinars which present the latest research underpinning the Michael Palin Centre theoretical framework, as well as the full evidence base for Palin PCI as an effective approach for early childhood stammering.
You will be expected to have a copy of the new manual as you follow the course:
Palin Parent Child Interaction Therapy for Early Childhood Stammering (2020) by Kelman and Nicholas, available in hard copy or as an e-book from Routledge or Amazon: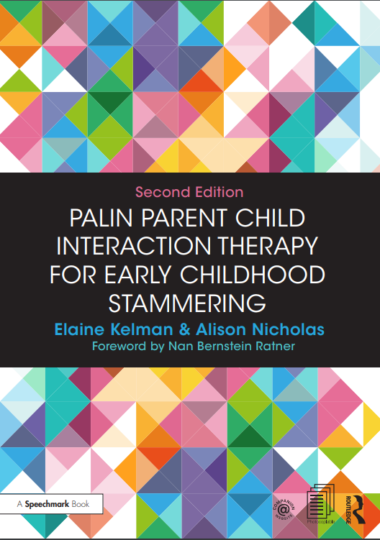 https://www.routledge.com/Palin-Parent-Child-Interaction-Therapy-for-Early-Childhood-Stammering/Kelman-Nicholas/p/book/9780815358329
https://www.amazon.co.uk/Parent-Child-Interaction-Therapy-Childhood-Stammering/dp/0815358326
| Ticket Type | Price | Cart |
| --- | --- | --- |
| Palin PCI one-day update | £145 | |
| Palin PCI one-day update (invoice payment) | £165 | Pay by invoice |